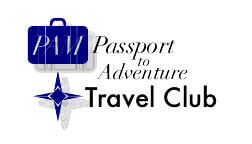 The Passport to Adventure Travel Club
Join me and other travel lovers as we share photos, stories, tips and more about our travels around the globe.  Whether you have traveled in the U. S., abroad, or just from you living room via the Travel Channel Programs, you will enjoy the chance to socialize with others sharing the same interests and hear about their travel experiences.  We have slide shows, guest speakers, special nights out and more.
Membership is free and everyone is invited to attend.  Come join the fun!