Nachos around the world – Hacienda Mexican Restaurant – Evansville, IN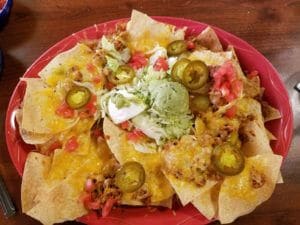 Hacienda Mexican Restaurant is a very popular restaurant in Evansville, Indiana with 4 locations now available. I usually find myself there at least once a week, when in town. This is not authentic Mexican food, but more of an American take on it kind of like Tex Mex, but not exactly. I have tried many, dare I say, most of the menu items and have liked them all. Hacienda is most famous for the Wet Burrito and their frozen margaritas. They have great specials on their frozen margaritas, which come in many flavors, but I still prefer the traditional lime margarita.
It had been a while since I tried their Nachos Fiesta, menu description: Trans-fat-free corn chips topped with tomatoes, melted cheeses, green onions, jalapeno peppers, sour cream and house-made guacamole. Choose Seasoned Ground Beef or Shredded Chicken, Beef or Pork. If you have been following my "Nachos Around the World," then you already know that I omitted the green onions and chose the Seasoned Ground Beef topping. The beef was good and well-seasoned, but not really plentiful. The cheese appeared to be a cheddar/Monterey jack blend that was melted to a hard consistency, not melty like most nachos I enjoy and was also in short supply. I had a lot of naked chips with no toppings. Overall, these were disappointing. I know when I had them in the past, they were better and had plenty of toppings. It has been a few years since I have ordered them, so don't know if they have changed or if this was a one-off situation. Based on this order, I would rate them a 5 on a scale of 10.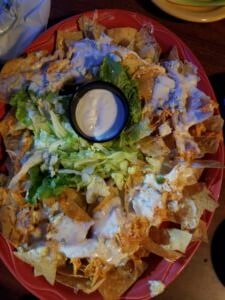 Back in June 2017 they had a limited time special nachos, the Buffalo Chicken Nachos. Unfortunately, I didn't take down the menu description for those. The same chips were topped with pulled buffalo chicken, white queso (cheese), lettuce, blue cheese crumbles and had a cup of blue cheese dressing with them. These were really good with plenty of flavorful toppings. If they bring these back again for a limited engagement, I definitely recommend that you give them a try. These were a 9 on a scale of 10.
Nachos Around the World continues…….