Nachos Around the World – Italian Nachos
I love to try the different styles of nachos and the Italian Nachos are a favorite variation.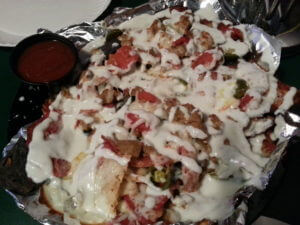 On a trip to Baton Rouge, Louisiana I ventured into a restaurant called Schlitz & Giggles, the name alone drew me in. Their slogan reads "silly name, SERIOUS PIZZA." I skipped the pizza on this visit (I have since been back to try the pizza) and went directly for the appetizer Italian Nachos – menu description: Tri-color chips layered with pepperoni, Italian sausages, jalapenos, roasted red peppers & smothered with melted Mozz topped off with diced Roma tomatoes, red onions, fresh basil & seasoned ricotta. They were served with a small cup of marinara sauce. Thus far, these are the best Italian nachos I have tried. My followers will know that I had them leave off the red onions, which I detest. The meat was flavorful, but not overpowering and the white cheese topping that was smooth and creamy (I assume the ricotta sauce) was just perfect to complete the dish. I give these a 10 out of a possible 10 for this style of nachos.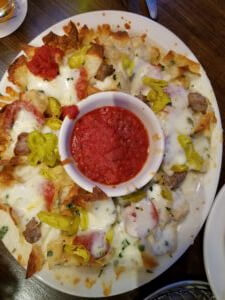 In my home city of Evansville, Indiana we have an Old Chicago – pizza and taproom restaurant, which is part of a chain. I'm not a big fan of their pizza, but in fairness Evansville is known for its many local pizza places that have amazing pizza pie. Old Chicago for me is a place for great appetizers, which includes the Italian Nachos, menu description: House-made pasta chips baked with Mozzerela, Provolone, Pepperjack, Pepperoni, Pepperoncini and Italian sausage. Served with our spicy marinara sauce. The chips are thin and get really stuck together by the melted cheese, but the flavor combination is good. I love the marinara sauce for dipping, but these are super messy to eat. Messiness is a normal feature of nachos, though so I guess it's OK. I give these an 8 out of a possible 10.
Nachos Around the World continues…….