Nachos Around the World – Philippines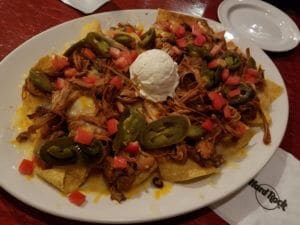 As the name implies, I search for nachos all over the world. In the Philippines, I managed to find a few different versions of my favorite dish.
If all else fails, I can always find nachos at the Hard Rock Café. I'm a Hard Rock Café pin and merchandise collector and I find that when I'm in a country with unfamiliar foods, it's a nice break. The food is always consistent and the menu is basically the same everywhere with some variation based on local foods and ingredients available and no matter where you are the staff always speaks English. Such was the case at the Hard Rock Café Makati, a sector of metropolitan Manila. Hard Rock Nachos, menu description: Fresh corn tortilla chips layered with homemade queso, piled high and topped with Monterey jack and Cheddar cheeses and seasoned pinto beans. Served with sour cream, chopped green onions, pico de gallo, jalapenos and a side of freshly made Hard Rock Salsa. Add Grilled chicken, Bar-B-Que Pulled Pork or Grilled Fajita Beef. As you can see from the description, I had a choice of meat toppings – each came with an upcharge. If you've been following me, you know that I chose the pork. These were good, traditional American-style nachos and I give them an 8 on a scale of 10.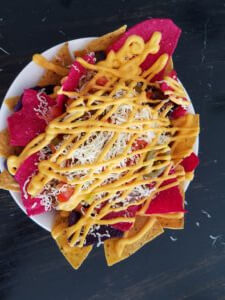 The next nachos I found were in Candon City, Locos Sur at a great little place called Little Panda. The menu was large and varied and I sampled several dishes as the prices in the Philippines are very inexpensive. I ordered the Nachos Supremo, menu description: Tortilla chips topped with beef, tomatoes, onion, chillies and lots of cheese. The chips were tri-colored red, blue and traditional. As always, I asked them to leave off the onions. The other toppings were as listed and the cheese included both a shredded white cheese and an orange liquid cheese. The meat was well-seasoned and there were plenty of toppings overall. While unlike any nachos I have ever had they were good and I give them an 8 on a scale of 10.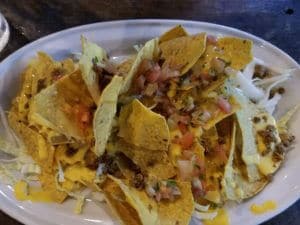 Finally on the very last night of my trip I found nachos at a restaurant in Makati, Metro Manila called Petra & Pilar. This is a Sports Bar/Restaurant and their Macho Nachos didn't offer a description on the menu, but I gave them a try. The tortilla chips were topped with a melted orange-colored cheese that had a great consistency, not at all like American "ballpark nacho cheese." Other toppings included pico de gallo, ground beef and shredded lettuce. These were simple, but really good bar nachos and I give them a 7 on a scale of 10.
Nachos Around the World continues…….