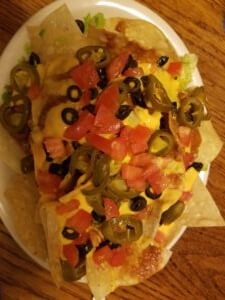 Nachos Around the World – Turoni's Pizza & Brewery
Turoni's Pizza & Brewery has been an Evansville favorite since 1963 for…. well…. pizza and beer. Recently on a visit to Turoni's For-Get-Me-Not-Inn location, I decided to continue my quest for nachos. The Supreme Nachos, menu description: Fresh chips with lettuce, home-made chili, nacho cheese, black olives, tomatoes and jalapenos.
These were good nachos with plenty of jalapenos and the tomato was chopped up, instead of being one big slice, which was nice. The chili was flavorful – the style of chili I enjoy. The chips weren't anything special and the cheese was the standard orange liquid cheese stuff – think Cheez Whiz. While none of the ingredients were anything really special, put together it was a great combination. I would give them a 7 on a scale of 10, which is really good for a place known primarily for amazing pizza.
Nachos Around the World continues………