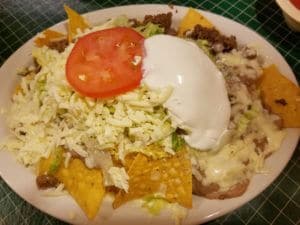 Nachos Around the World – keep it local – Mexican-style Nachos

There are many restaurants in the Evansville, Indiana area that serve nachos. I am including Mt. Vernon and Newburgh as part of the Evansville area locations. Many of those restaurants Mexican restaurants, but some are locally owned bars and pubs and some are even National chain restaurants. I have tried many of them and have made it my mission to try the nachos at every place in the area that serves them.
When visiting a new restaurant that specializes in Mexican cuisine, I always try the same menu items to be able to make an equal comparison. Those dishes are: chips and salsa, choriqueso, a margarita and the house nachos. Choriqueso is the melted queso (white Mexican cheese) with ground chorizo mixed in and it is for dipping the chips, not all of the local places offer this appetizer.
So far in my quest for local nachos, my personal favorite remains the Nachos Tequilas from Tequilas Restaurant in Mt. Vernon. They are offered in a full order or a half order and here is the description taken directly from their menu:
Nachos Tequilas – Cheese nachos topped with beef, shredded chicken and refried beans, all covered with lettuce, tomatoes and sour cream
I don't like both beef and chicken together on my nachos, so I usually order them without the chicken. The chips are crispy, but firm enough to hold up to the toppings. They use plenty of the melted queso as well and generous portions of very smooth refried beans and the taco beef, which is well seasoned. The lettuce is shredded enough to be easy to eat with the chips and they add a the white cheese shredded on top with the sour cream. The only strange thing is the tomato, it is just a slice of tomato on top. I usually take it off and cut it up to be able to more easily incorporate it into the nachos. I give these nachos a 9 on a scale of 10.
Nachos Around the World continues………..