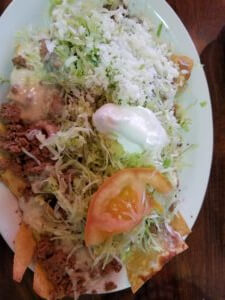 Why nachos?
What is my fascination with nachos? Well, first of all they are delicious! Seriously, I really don't know when it started, but I have always enjoyed crunchy foods – potato chips, pita chips, tortilla chips, snack crackers etc. – with some kind of dip or topping. When I was in grade school, my after-school snack was usually Ruffles brand potato chips with ketchup for dipping (my choice). I've always loved chips and any kind of dip. In high school it was nacho cheese flavored Doritos brand chips with chive or onion dip. Later it became chips and salsa, and so it progressed.
I was always a picky eater and I guess my favorite foods are probably the same as that of most 8 year old children. In addition to nachos, I love hot dogs (especially with chili and cheese), pizza, tacos, chicken strips, corn dogs, etc. Luckily I have a good metabolism and understand portion control or I would have a BIG problem – you know – I'd be BIG!! Fortunately salad is also crunchy, so I enjoy a fresh, green salad which helps to balance out my nachos consumption.
So as Mexican cuisine became more popular and more available in my local area, nachos became my obsession. Now you can join me as I feed my obsession (pun intended) and enjoy Nachos Around the World.