Nachos Around the World – New Orleans
I previously highlighted my favorite nachos in New Orleans, so far, the N'awlins Nachos at Remoulade. New Orleans, a noted foodie destination has many other nachos types of nachos from which to choose. Today, I will highlight a couple of those options.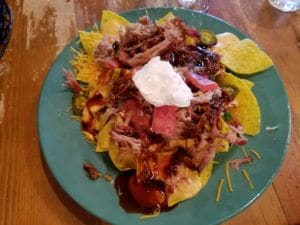 VooDoo BBQ & Grill is located next door to the Holiday Inn & Suites New Orleans Airport South. I was staying there on business without a car so the VooDoo was a convenient option and it turns out, also delicious. I chose the BBQ CHOS listed on the meu as a "signature item" with the following description: Tortilla chips with the Carnival chopped BBQ mix, queso, cheddar cheese, Mojo BBQ sauce, green onions, tomato, sour cream & jalapenos. I was offered one meat option from the Mojo BBQ and chose the pulled pork and asked them to omit the green onions, as always. The queso had a good flavor. The pulled pork was really smoky and tender and was then topped with the BBQ sauce. The tomatoes were chopped the way I like them. There were plenty of jalapenos and then shredded cheddar and sour cream were the finale. I really enjoyed these and give them an 8.5 on a scale of 10.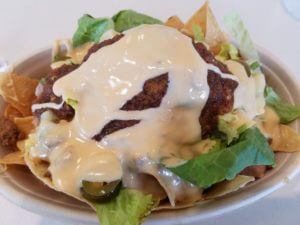 Izzo's Illegal Burrito is located in the food court of the Outlets at the Riverwalk along the Mississippi River just beyond the French Quarter. Their sign reads "Izzo's Illegal Burrito – Roll your own." This is the menu description: A nacho bonanza featuring a ton of homemade tortilla chips covered in your choice of meats and toppings. Top it all off with Izzo's homemade queso and you get a fiesta of flavor that will make your taste buds dance!
It works kind of like the Subway sandwich shop. There were five meats to choose from, as well as shrimp (steak and shrimp had an additional charge) you may also choose all vegetarian options. They had three types of beans, two rice options and many vegetables as well as salsas and guacamole for an additional charge. I chose my favorite meat topping for nachos, the ground beef. My other toppings were refried beans, Romaine lettuce, diced tomato, pickled jalapenos, guacamole and Izzo's salsa. Then on top of it all they ladled the Izzo's homemade queso. It was weird to have the queso covering the guacamole and I would have preferred the salsa and guacamole on top of the queso, but it was still good. It also would have been better if the lettuce had been shredded into smaller bits. Despite the composition of the nachos, the overall favor of the meat, cheese, salsa and other toppings together was really good. I would give these an 8 on a scale of 10.
Nachos Around the World continues…….